The bitter Cardiff cold, the dawn half-light, and the radio-static pulse of callouts are the same as every shift over the past year, but as paramedic Angie Dymott and her colleague Lynda Stephens climb into their ambulance one recent morning, something small, but vital has changed.
There have been very few Covid-19 emergency calls in the past two days, and they are wondering why."A few weeks back, that's all we were going to," said Dymott. "Covid after Covid after Covid.
Then all of a sudden, it just dropped off quite quickly. So [the change is] surprising, but a good surprise."
Cardiff, in south Wales, has been hit hard by the virus. But during the two days CNN spent with its teams, suspected Covid callouts fell dramatically.
Dymott and Stephens get two: One definite positive middle-aged woman, who isn't that sick, and another 75-year-old woman, who is waiting for a clearer test result.
On Thursday there were only four callouts across all of Cardiff's 400,000 population.
Wales once had the distinction of being home to some of the worst-hit areas in the United Kingdom, which itself has one of the worst death rates globally.
But last Friday, it had a new focus: Completing its rollout of vaccines to the most vulnerable ahead of schedule — with greater efficiency than the already fast UK. It's left some wondering if the vaccines might be playing a role — finally — in the drop in elderly patients in need.
One possible Covid call the crew answers is a case in point: Khatun Makani, 75, took a home test that was positive, but had a cold and chest infection that might have made that a false positive, said Dymott.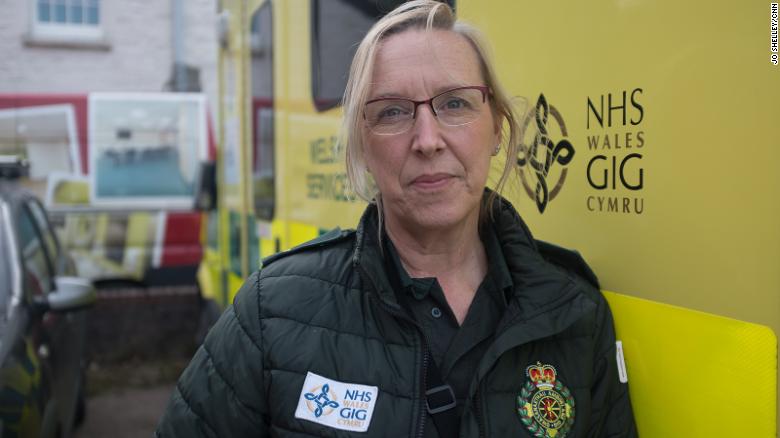 Angie Dymott, a paramedic with the Welsh Ambulance Service, was hospitalized with coronavirus last April.
She recovered and has returned to work."I'm shivering and my mouth is very dry," said Makani, standing just inside her front door.
Her frailty is emphasized by the din of a huge family dog locked in another room, and the news that her son, Raheem, a local DJ whom neighbors discuss with affection, died days ago from a heart attack unrelated to Covid.
The solitude here is underpinned with intense grief.